Remeha
A fool-proof system-generator for the heating expert.
Remeha brings warmth to your home. Their product range comprises of heating and sanitary systems, with a strong focus on innovation, efficiency and sustainability.
With 900 installers and over 80 years of experience and 75 solutions on the market, they are a key player in the manufacturing industry.
Increased customer expectations, disruptive technologies and a fast changing world have made the switch to digital inevitable for almost every sector imaginable. The manufacturing sector is no exception to this rule and so to stay ahead of the game Remeha quickly identified digital as a top priority in their roadmap. In Bagaar they found a trusted partner to help them explore the added value of digital, tailored to their specific needs and challenges.
The Remeha product range is very elaborate and not all product combinations add up to a feasible heating-system. As a consequence providing tailored, error-free advice to the end customers can be a challenge. Also, over 900 installers are on the move daily, servicing end users with their expertise. To keep all these installers informed, synced and up to date in a standardised way also proved quite challenging. Remeha wanted to explore solutions that could better inform and support installers in their sales process. They wanted to reduce the margin of error in product configurations while lifting the quality of service for the end customers at the same time.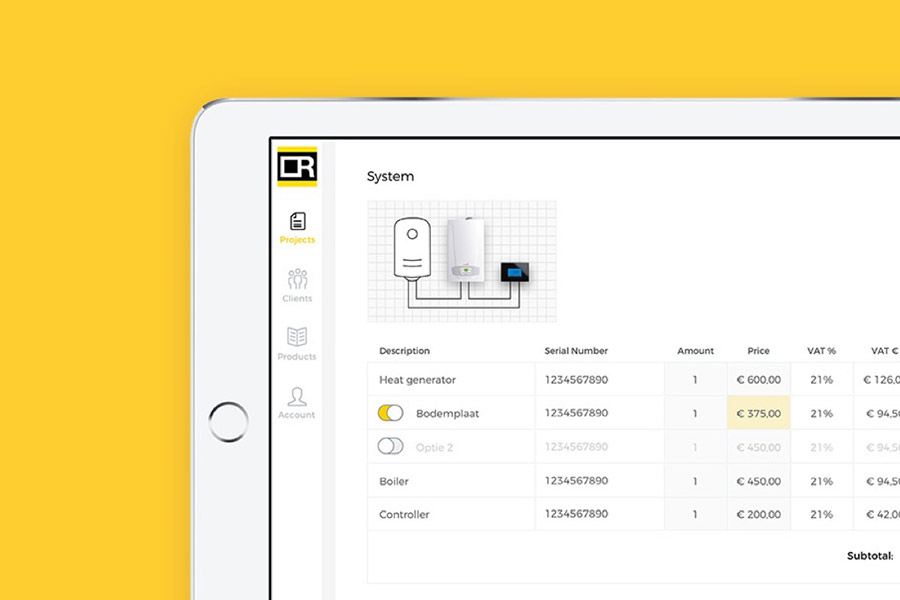 A product configurator and system generator proved to be the perfect answer. Not only addressing current challenges but adding extra boost to the business optimisation. This tool enables the installer to digitally create a product or system with predefined building blocks. It offers real-time visual feedback and the price automatically evolves with the composed solution. The tool offers freedom of creation within verified production boundaries while including the end-customer more actively in the process. The output: a visually supported, detailed and transparent system presentation without errors that emerged from a co-creation process between installer and end-customer. As a very welcome side effect, this digitisation process opened the door for Remeha to big data sets, increased business intelligence and shorter feedback loops. This makes them much more agile, resilient and futureproof. While this wasn't the initial scope of the project, we often see this as a by-product of more made to measure digital solutions where data is being unlocked. It was our task to identify this opportunity and make it scalable.
In this project there was a strong focus on user experience because in a sales process digital has to be 100% in order to be adapted by users. The interface is built around efficiency, collaboration and communication. On the back-end side nr.1 priority was a clean database of products, with easy adaptable variables and the possibility of upscaling in terms of data-gathering, statistics and interpretation. But as their digital partner we didn't just develop the tools best suited for their situation today, we also helped shape a digital roadmap for the Remeha of tomorrow. The short term projects, that had to proof the added value of digital as soon as possible, are perfectly in sync with their long term strategy. We stand by the lean methodology and fail fast philosophy but not without designing a future horizon together!
We learned that digital can be an excellent partner for companies who have wide product ranges that are offered in myriad combinations, to help reduce the errors made in the order process. It is also a very good match with companies who have a big part of their staff on the road, working remote. How else can you keep control over quality and gather enough business intelligence ?