Smart Fridge
Find out how we helped a classic caterer flip their business model to smart fridges providing a wealth of insights.
B-Food was a classic caterer located in Brussels focused on fresh and healthy food. Customers would place an order for their employees which would then be delivered to the company or picked up. This means B-Food had a limited reach and little to no insight into the habits and preferences of end-consumers. That is until B-Food flipped their business model becoming a digital player in the food industry by connecting their fridge and providing a nice mobile interface for their customers under the name Smart Fridge.
That's where we came in. B-Food came to us because they were looking for a partner who could help uncover new business opportunities with a strong focus on UX/UI and the technical skills to guide them in all things tech.
The goal was to allow consumers to open the fridge via a mobile app, take out their healthy snack or lunch of the day and get the right amount charged automatically. This produced a lot of technical challenges. Finding the right technology to identify the different food products in the fridge, making sure the smart fridges could operate all by themselves in public spaces and lastly connecting all platforms and hardware so everything would communicate seamlessly with each other: the smart fridge, the consumer app, the back end and the supply chain, all built on top of a scalable and secure infrastructure.
The most exciting part of it all is that we were able to unlock different future scenarios by digitizing the current operations. Gathering data on end-consumers like who buys what, where and when would already offer a lot of new insights that we could translate into action. For example, if we know Anna likes to buy a fruit salad every Tuesday, we could offer her a discount, suggest new types of fruit salads and make sure there's always fruit salad available that day. In short, B-Food can optimize communication, products, offering and supply chain all in one go. But what's the next step? We wanted to uncover the biggest business advantages in the long term.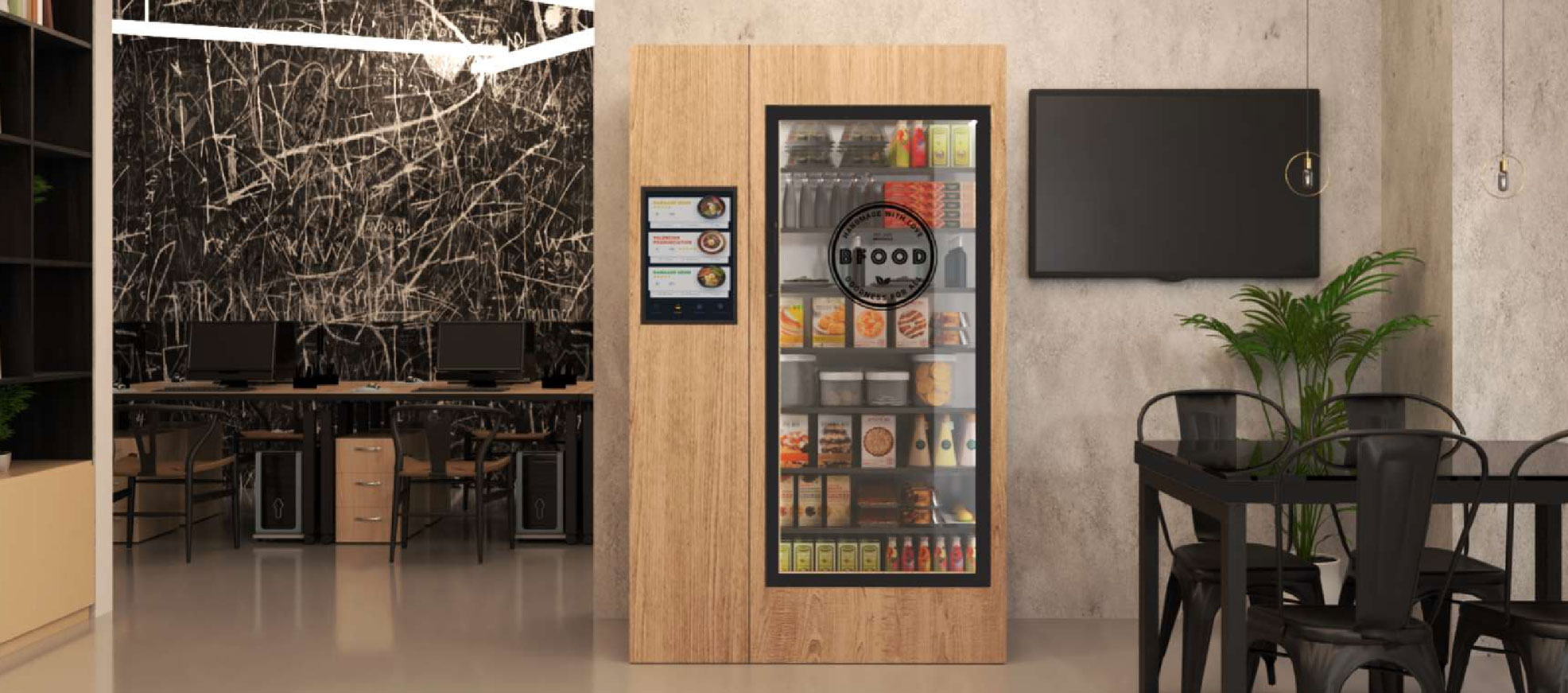 Verhaert Digital coordinated all expert partners and our own IoT team to integrate all hardware, software, and firmware into one well-oiled machine. A neatly UX/UI-designed mobile app takes customers through a smooth and easy ordering flow: check the fridge, pick a delicious lunch and with a valid payment account you can open the fridge and take out your lunch. After a product has been removed, the smart fridge detects what is purchased with RFID technology and automatically charges the right amount to the client. It also sends an order to the back end to restock.
Based on the data we collect and translate into insights Smart Fridge can now start optimizing and growing its business. In the future, it will fine-tune communication towards end-consumers sending new, personalized offerings via the mobile app based on their preferences. The smart fridge will also be fitted with a screen allowing for customized marketing messages that can be changed immediately based on weather conditions for example. "Sun is shining? Want to move your dancing feet and enjoy a carrot smoothie?" And why not ask for feedback? Did they enjoy it? Smart Fridge could even become your health companion, helping you achieve a healthier, well-balanced diet. All these insights will produce informed decisions to optimize products, offerings and supply chain. And it enables end-to-end monitoring. Smart Fridge can fine-tune its production process and logistics, cutting costs and reducing food waste.
But there are even bigger opportunities awaiting. If you look at our current economy, it is platforms that hold an enormous potential for growth. The bol.com's and Deliveroo's of today. Once Smart Fridge has a network in place of connected fridges spread over several cities, it has a whole ecosystem to offer to other clients: a communication channel via the mobile app, and a distribution channel composed of smart fridges and users. It opens a whole new market for other food suppliers. And the end-consumers? They get to enjoy premium fresh and healthy food products catered to their preferences in any big city.